Not often do you think the simplist thing such as climate would have an effect that affects an individuals mental health. But if you think about it for some the though of what is happening to the world is distressing to say the least. What I most enjoyed about this article was they start out talking about the connection of climate and mental health. I am reprinting this from the APA website, it is a featured article. I thought it was pretty informative. I hope you enjoy this and it gives you a moment to pause, think, share and discuss….enjoy.
Climate change is threatening mental health
A federal report that tapped psychologists' expertise outlines the ways climate change affects us all.
By Kirsten Weir
July/August 2016, Vol 47, No. 7 Print version: page 28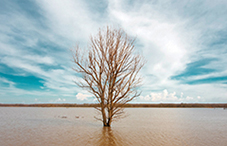 People's anxiety and distress about the implications of climate change are undermining mental health and well-being, according to a new federal report reviewing existing research on the topic. Issued by the U.S. Global Change Research Program, the report is the first time the federally mandated group has published an assessment solely focused on climate change and health.
The report is notable for another reason, too: It contains a chapter devoted to mental health and well-being, a significant step forward for an assessment of this type, says lead author Daniel Dodgen, PhD, a clinical psychologist at the U.S. Department of Health and Human Services, Office of the Assistant Secretary for Preparedness and Response. "I think people realize that if you're going to talk about health, you have to talk about mental health," he says.
The report also found that:
Exposure to climate- and weather-related natural disasters can result in mental health consequences such as anxiety, depression and post-traumatic stress disorder. A significant proportion of people affected by those events develop chronic psychological dysfunction.
Some people are at higher risk for mental health consequences from weather-related disasters. Among them are children, pregnant and postpartum women, people with pre-existing mental illness, people who are economically disadvantaged, those who are homeless and first responders to the disaster.
Representations of climate change in the media and popular culture can also influence a person's stress response and mental well-being.
Extreme heat increases both physical and mental health problems in people with mental illness, raising the risk of disease and death. In part, that's because many psychoactive prescription medications impair the body's ability to regulate temperature.
Connecting the dots
While environmental psychologists are pleased to see an emphasis on mental health and well-being, the findings were not unexpected.
"When it comes to climate change and mental health, the picture that emerges when you connect the dots is not surprising," says Susan Clayton, PhD, an environmental psychologist and chair of the environmental studies program at the College of Wooster in Ohio, and co-author of the 2014 APA/ecoAmerica report Beyond Storms & Droughts: The Psychological Impacts of Climate Change. "It's just that people aren't connecting the dots."
Joseph Reser, PhD, a psychologist at Griffith University in Australia and a contributing author of the report, agrees that more needs to be done to flesh out the connection, both for the public and for other experts in the climate change community. Most of the people working in this sphere are biophysical scientists or public health experts who are not necessarily aware of the psychological research that has been amassed over the last several decades, he says. "Many climate change researchers talk about the human dimensions of climate change, but rarely is it a psychologically informed discussion."
As psychologists continue the push to inform that discussion, Reser says he'd like to see more focus on what people are experiencing now. Many people think of climate change as a looming threat, he says, when it's actually something we're well in the midst of. "People have been concerned and distressed about climate change for several decades, but there's been little monitoring of those psychological impacts," he says. "Climate change is an ongoing threat, and the psychological implications are occurring here and now."
Bob Doppelt, coordinator of the International Transformational Resilience Coalition, a global coalition of resilience researchers and practitioners focused on building human resilience for climate change, is also eager to better understand the psychological aspects of climate change. "The report is a significant step forward," he says. "Now we need to scale it up and turn it into policy and program proposals" that help people prepare for, cope with and recover from the inevitable changes we face, he says.
To that end, his group is hosting the First International Conference on Building Personal and Psychosocial Resilience for Climate Change at APA's Capital View Conference Center Nov. 3–4, in Washington, D.C. "We do need disaster management, but there's no way we're going to respond to every big weather event and treat everyone who is impacted — we can't even do that now," he says. "We know how to help people learn resilience and increase their capacity to cope with uncertainty and trauma. Given what's coming at us, a major focus has to be on prevention tools.
I hope you enjoyed this bit of information, if not you can always leave a note with what you might want to read about concerning mental health, meditation, or nutrition, again an as always I thank you for taking precious time out of your day to visit with me, "Donna".
"Remember if you or someone you know are dealing with mental health issues please get help and know you are not alone."
You can continue or start to support me by sharing, liking, rating and following me here on WordPress at "Talking with Donna".
Come join me "Donna" weekly at, "Talking with Donna" on these platforms: Anchor, Apple podcast, google pod cast, spotify, breaker, ivercast, pocketcast and public 📻 radio.
I would ❤ hearing from you, leave me a comment on my podcast "Talking with Donna" on anchor…you never know your comment might be part of my podcast….thank you again.
Stay tuned 😊